Our First Trip to Sydney
Posted:
July 5, 2016
· By:
Teamsikler
· Comments:
1
Under:
Sydney
Wow what a beautiful city it is!
Our first day in Sydney was great.
The fastest and most fun way to travel through the city is with the ferry. It´s cheap and you get to see all the main attractions like Harbour Bridge and Opera House.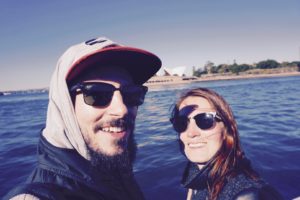 We went up Sydney Tower to get a great view over the city including the sunset.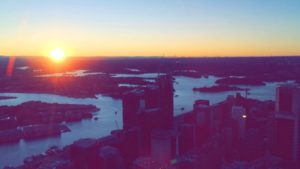 We´re havin a great time. It´s good to finally have some time to relax and calm down after exciting and exhausting farewell weeks in G.
We keep u posted.
TeamSikler
Deutsch:
Wow, was für eine schöne Stadt! Unser erster Tag in Sydney war genial.
Die schönste und schnellste Möglichkeit sich in der Stadt fortzubewegen ist die Fähre. Es ist relativ günstig und man kann die bekanntesten Sehenswürdigkeiten wie Harbour Bridge und Opera House sehen.
Wir waren auf dem Sydney Tower und haben uns eine Aussicht über die Innenstadt verschafft und den Sonnenuntergang genossen.
Wir haben eine richtig gute Zeit zusammen. Nach den letzten intensiven und anstrengenden Wochen in Deutschland tut es gut, Zeit zum Entspannen zu haben.