Livin with the Radnavadivels <3
Posted:
July 18, 2016
· By:
Teamsikler
· Comments:
0
Under:
Sydney
Much love goes out to the Radnavadivel family.
Before we could move into College Housing we had to stay somewhere else for our first 2 weeks in Sydney. My brothers Godmother Petra happens to live here with her husband and their 3 children. We were blessed with their hospitality for more than 2 weeks. They gave us a place to sleep, eat and a lot of fun 🙂
We both were sick last week after Conference (Johannes had a flu with over 39 degrees fever). Petra cared for us until we were healthy again 🙂
We had so much fun with the kids! We went to the cinema and Katrina visited the Zoo with them which was a great day!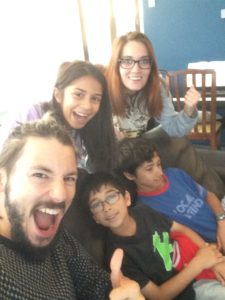 Leben bei den Radnavadivels 🙂
Bevor wir in unser College Haus einziehen konnten, mussten wir noch 2 Wochen überbrücken. Gott sei Dank lebt Petra, die Patentante von meinem Bruder Markus, in Sydney. Also konnten wir bei ihr und ihrer Familie wohnen. Wir hatten ein eigenes Zimmer mit Bad und jede Menge gutes Essen 🙂 Außerdem hatten wir auch sehr viel Spaß zusammen.
Leider waren wir beide auch ein paar Tage krank. Johannes hatte sogar Fieber über 39 Grad. Petra hat uns aber schnell wieder gesund gepflegt.
Mit den Kindern war es richtig schön. Wir waren im Kino, im Zoo und haben Siedler gespielt 🙂