More about Life at Hillsong College…
Hi everyone, now I (Katrina) find time to complement what Johannes has written last time.
It seems after 2 months in Australia we already found our second home. Our daily life here compared to our life in Germany is almost completely different. We are students , but also a part of the Hillsong family. From the beginning the people from Church saw us as leaders and value us the same as locals. They see a purpose in every student.
I started to work in the Youth Ministry. We are a big family and spend a lot of time together. Not only on Fridays (when there is a big Youth Party), but also during the week and Sundays. I am leading a Smallgroup (approx. 15 girls) on Tuesdays, there are "Follow up Calls" (We call every new student or new believer and invite them to come again). Our main focus is on Sundays because we want them to become a part of the church family . We have special Services for the Youth during the main Sunday services. There are more activities for and with the Youth, for example the "Encounter festival" , but I will talk about it another time.
Another ministry which i am involved in is "SISTERHOOD" (Every Thursday there is a service for only women. If you want to know more about it follow this link: http://hillsong.com/australia/sisterhood ). The best thing is every fort week I sing in the choir in Sisterhood, but otherwise I just participate, which is always encouraging for me.
As you can see, we are both really busy the whole week, but we still find time to do fun stuff like going to the beach and enjoying time with new friends.
Much love, Katrina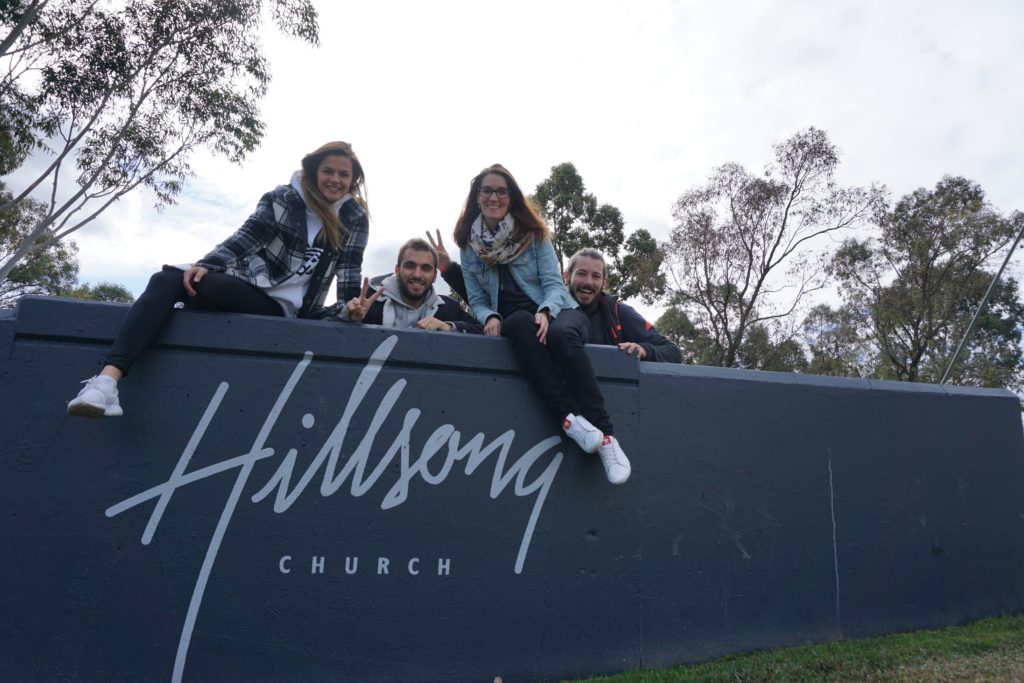 Übersetzung:
Hallo ihr Lieben, jetzt finde ich endlich Zeit, den Post von Johannes von meiner Seite aus zu ergänzen.
Nach 2 Monaten in Australien haben wir nun unsere zweite Heimat gefunden. Unser Leben im Vergleich zu Deutschland ist ziemlich anders. Wir sind Studenten, aber trotzdem auch ein Teil der Hillsong Familie. Von Anfang an sahen uns die Leute aus der Gemeinde als Leiter und behandelten uns wie Einheimische. Sie sehen in jedem von uns Studenten eine Bestimmung für unseren Aufenthalt hier bei Hillsong.
Ich habe angefangen in der Jugend mitzuarbeiten. Es fühlt sich an wie eine große Familie und wir verbringen viel Zeit miteinander, nicht nur Freitag Abends in der Jugend, sondern auch unter der Woche und Sonntags. Dienstags leite ich eine Kleingruppe mit ungefähr 15 Mädels, außerdem gibt es den "Anrufdienst" ( Wir rufen alle neuen Jugendlichen einmal in der Woche an, um sie für den nächsten Jugendkreis einzuladen). Unser Hauptfokus ist auf den Sonntagen weil unser Ziel ist dass die Jugendlichen auch ein Teil der Gemeinde werden. An Sonntagen haben wir einen eigenen Jugendgottesdienst parallel zu den anderen Gottesdiensten. Es gibt noch viele weitere Aktionen mit und für Jugendliche, zum Beispiel das "Encounter festival", aber darüber erzähl ich euch mal ein anderes Mal.
Eine weitere Arbeit bei der ich involviert bin ist "Sisterhood" ( Jeden Donnerstag Vormittag ist ein spezieller Gottesdienst für Frauen. Wenn ihr Mehr darüber erfahren wollt folgt diesem Link: http://hillsong.com/australia/sisterhood). Das Beste ist, dass ich jede zweite Woche im Chor mitsingen darf, ansonsten bin ich einfach bei Sisterhood mit dabei, was mich jedesmal richtig ermutigt.
Wie ihr seht sind wir die ganze Woche ziemlich beschäftigt, trotzdem finden wir auch immer wieder Zeit für Spaß wie zum Beispiel an den Strand gehen und die Zeit mit neuen Freunden genießen.
Liebe Grüße, Katrina